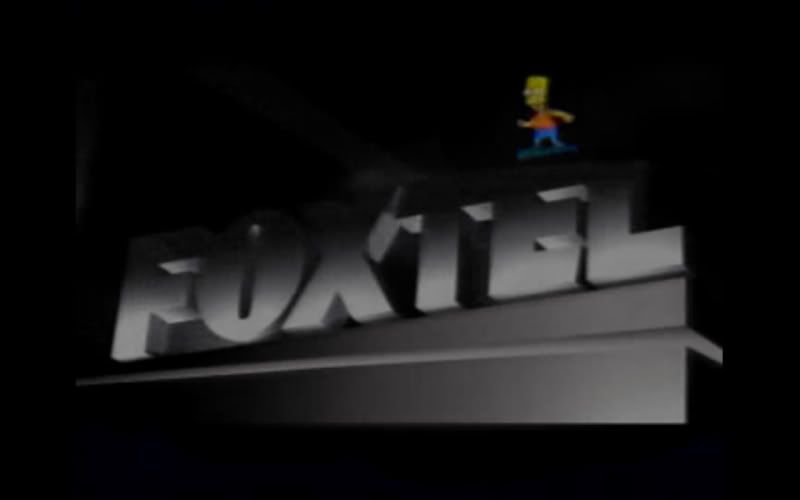 Fifteen years ago saw the very early beginnings of a relationship that would carry me through some of the best and worst times of my life. Fifteen years ago entered a rock into my life that has remained unmovable and unshakeable. A partner that has watched me grow, and grown with me. It never gets jealous, argumentative and best of all, it never talks me out of stretching even the flimsiest of analogies to its breaking point. I'll stop now. Fifteen years ago, pay tv entered my life.
This story of love at first sight began with the beloved but ill-fated Galaxy TV. I was at my auntie's house, they'd recently had the hideous microwave dish bolted to their roof, and my dad and I had cobbled together an excuse for a visit. He was secretly just as excited as me about welcoming into Australia what was promised by several newspapers as "the future".  What the future contained was a mystery to most, although according to journalists of the time it contained a lot of golf, too many remote controls and a frustrating setup for VCR users. He was not, as he claimed to mum, feverish at the thought of "finally getting to see the new granny flat on his sister-in-law's".
My dad and I had, without once speaking of it, devised a strategy that would result in maximum Galaxy time. We carried our plan out often, and we did it damn well. We would time our visits so as to not clash with any Crows or Tottenham games, my uncle being a rabid fan of both teams, never, never missing a televised game. Our impeccable foresight into timing meant the TV would be kept well clear of those symbols of inferiority, the free-to-air channels. We also paid attention to our Family:Galaxy ratio. We had to play this finely, if we were to burst through the front door, throw the dog from the lounge and disregard my grandma waiting for a hug they'd see straight through us. Though this is what our hearts wanted us to do, if we did, our cover would have been blown. We would engage in superficial, grueling conversation for an hour or so and at this point we'd lead the conversation seamlessly towards the new addition to the family. The new family member with eight channels of pure entertainment. The cleverest part of our plan though, was how we'd always make my uncle think that exhibiting the set top box and its exploits was his idea.
My uncle was obviously very obliging to show us his $50 per month investment, with one subscription he'd become far cooler than that kid at school with an actual pinball machine in his house. My dad and I would take turns between flicking through the channels and thumbing through the Galaxy magazine. As dad became increasingly dumbfounded at how the Federal government had locked us in the televisual 1960s for so long, I pointed out that if you missed Welcome Back Kotter on TV1 at 8:30pm you could watch it the next morning at 7:30am! I saw into the future on those days at my auntie's house, it contained a lovable VJ named Jabba, heaps of WCW wrestling, a home shopping network and the tantalizing idea of a SEGA channel.
After our first experience with pay tv, it was settled, the Bartletts were going to be the first subscribers on Taylor street. We called Galaxy to book in a time for installation. They advised us that for the microwave dish to receive the satellite feed, you'd need to have an uninterrupted view of the State Bank Building from the roof of your house. Galaxy's repeater sat atop Adelaide's tallest building, and a clear view suggested good reception. Seemingly before hanging the phone up dad had the ladder out and was on his tiptoes standing on the roof's ridge capping. "I can see the logo, we might need to chop down that tree, but I can see the logo!". The tree was a century old gum tree, and belonged to our neighbour. However, I'm sure he'd have seen the logic of our thought, sure the gum tree may have added value to his home, but the value added by living next to the neighbourhood's first pay tv subscriber was limitless. 
We quickly got back on the phone and confirmed that yes, we're good candidates for the surgery. Within two weeks (felt like two months) the installer was tracking mud through our house and stomping on our terra-cotta tiles. After some poking around in the roof, and some mysterious testing, he somehow climbed down the ladder with a Farmer's Union and a fag in mouth. His expression was transparent, even through the gruff exterior. He had bad news. We sat down. I was optimistic right up until the point that he delivered the words they don't teach you in pay tv installers school: "you'll have to wait for cable to be laid in your area".
I spent the next year wandering around like a zombie. I tried to find friends to somehow fill my time spent waiting, but too few met my criteria. Needless to say I wasn't making many friends when my first question of other eleven-year-olds on the monkey bars was "do you have an uninterrupted view of the State Bank building from your roof?".
kindainterestingmusings posted this